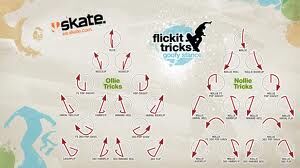 The Trick Guide is an option in the pause menu of all three games in the Skate Series. The main purpose of this guide is to show you how 'flickit' or do a trick in the game, while also showing your character in a brief loop doing said trick.
In Skate., the trick display is usually done near/on the rail, though this may be a different case for grabs. This is the only Skate game to not have a special area for tricks.
In Skate 2, the trick display is shown in an unknown area with 2 quarterpipes and a ledge. Grabs are shown by the quarterpipe, along with Double/Triple/Quad flips, late flips, and backflips. Grinds are shown on the ledge, the side of the ledge is dependent on whether it is Frontside or Backside.
Community content is available under
CC-BY-SA
unless otherwise noted.